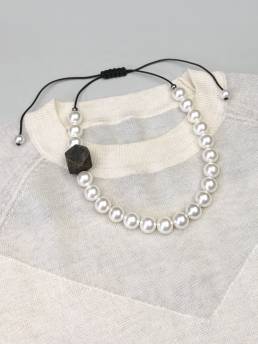 Sporty Pearls Necklace
This necklace is made from ceramic pearls with a wood facets decoration, mounted on a sliding black thread. Part of "Sur-Faces" Collection.
The "Sur-Faces" collection tells the story of the modern human, adapting himself and his life in a citadel; struggling not to forget his pure essence, deeply humane, delicate and sensitive. Each and every day, people show multiple facets of their personality. But the truth is unique. The truth lies in the heart. One creates facets as a protection, a surface shield to protect a more fragile inner side. If smile, anger or seriousness might be read on ones face, they sometimes act as a protection to prevent true emotions to come to the surface. Through the variety of the materials used the accessories in the "Sur-faces" collection express this complementarity. With rigid facets, shiny or silky surfaces, they decorate the body and feed the soul.
In stock
---
---
Additional information
| | |
| --- | --- |
| Dimensions | 30 – 60 cm |
| Materials | Oak, synthetic thread, Ceramic Pearls |
| Collection | Sur-Faces |